If you have been on Microsoft training courses, you may have seen computer information displayed on the desktop. This isn't done using the publicly available bginfo from sysinternals – http://technet.microsoft.com/en-us/sysinternals/bb897557.aspx – they have another tool called backinfo.exe. This is much better in my opinion, it supports higher resolutions without repeating and generally looks nicer, I use this as standard now on all my servers. This used to be included in the WSSRA Virtual Environments for Development and Test (see http://blogs.technet.com/b/johnbaker/archive/2006/02/15/where-can-i-find-the-backinfo-utility.aspx for more info), but you can download it below. Customise the ini file as required. You can also use a bitmap file with both tools.
Also see my other post for a quick PowerShell script to configure a machine to load backinfo on logon: https://cloudrun.co.uk/server/backinfo-powershell-script.
Of course you could also deploy this using Group Policy or another software delivery tool. Create a Computer Preferences Policy to deploy BackInfo, copying Backinfo.exe and Backinfo.ini to %ProgramFilesDir%\BackInfo\ via a Files Preferences Policy, a REG_SZ registry key under HKLM\Software\Microsoft\Windows\CurrentVersion\Run called "BackInfo" with value %ProgramFilesDir%\BackInfo\BackInfo.exe, and a folder replace to create/update the folder for BackInfo to live in.
Here is a comparison of bginfo vs backinfo.
Backinfo: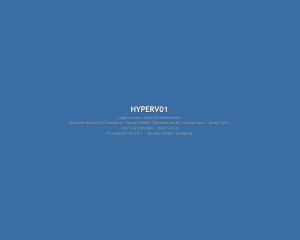 Bginfo default: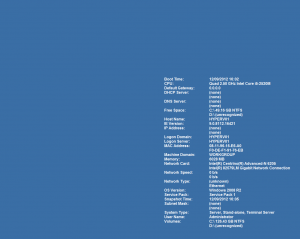 Bginfo custom: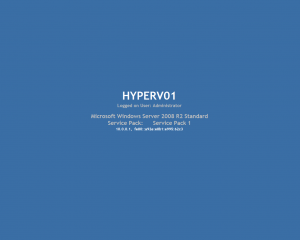 And with a custom background bitmap:
To get the bitmap to display, I edited the default desktop background C:\Windows\Web\Wallpaper\Windows\img0.jpg in paint, saved to the same location as a 24-bit bitmap file, and then added this to the .ini file:
BackgroundBitmap = C:\Windows\Web\Wallpaper\Windows\img0.bmp