Contents
Introduction
Due to the imminent PSTN switch off, as well as the fact that we got 1gbps fibre to the house, I was looking for a solution to retain our BT landline number and use a VOIP service. I already have a Teams phone in the Office (a Yealink MP54 – a great Teams phone by the way), but an office desk phone isn't suitable for the home, it's too big and not portable.
So I had a look at the Yealink DECT phones, which have a small base station and can have multiple handsets. These aren't Teams phones, but they are SIP compatible VOIP phones and if compatible with Teams SIP gateway, should be a neat option. This turned out to be a great solution, and whilst Teams phone licenses and call plans are not that cheap, it's a lot cheaper than paying BT for expensive line rental on a legacy service which is due to be decommissioned anyway.
Functionality is not the full Teams experience, but you will be able to make a receive calls as easily as a landline, as well as checking Teams voicemail. You will not be able to make native Teams calls, i.e. you will have to dial a PSTN number and not select someone from the address list like you can with a proper Teams phone.
Requirements
Teams
You will need a Microsoft 365 (business) subscription, along with required licenses, admin rights, and knowledge of Teams administration. Teams personal will not work.
Also as per https://techcommunity.microsoft.com/t5/microsoft-teams-blog/enable-core-microsoft-teams-calling-functionality-on-compatible/ba-p/3030196, you need the following licenses:
Users must be licensed for Teams Phone (via any Office 365 E5, Microsoft 365 license that includes Teams Phone, or as a standalone license)
PSTN enablement (i.e., phone number assigned) via a Microsoft Teams Calling Plan, Direct Routing, or Operator Connect
Common area devices require a Common Area Phone license
Handsets and base station
You need one of the following compatible Yealink base stations:
W70B
W80B/W80DM
W90B/W90DB
Noe that the W60B base station is not compatible.
And one or more compatible handsets:
Yealink have listed these here: https://support.yealink.com/en/portal/knowledge/show?id=6458b6edb1fa936c57b56d12
I purchased the W70B base station with the W73H handset from https://www.broadbandbuyer.com/products/43018-yealink-w73p/?gclid=Cj0KCQjw0bunBhD9ARIsAAZl0E2siEfHgnt2RKLdRL0ssFb2qD185okEJuWWeE1d85_yJZ82bMrr-90aAmA-EALw_wcB. The handset is great, small and sleek and looks smart enough for the home.
Phone number porting
You will also need at least one phone number in Teams. You can use any provider for this, or get a free number with Microsoft a calling plan. I ported in my BT landline to use with a Microsoft calling plan, that took about 10 days – just initiate the port in the Teams admin centre and Microsoft do the rest. Your BT landline will automatically cease, along with any other services such as DSL, so be careful if you are still in a contract as they may be an exit fee.
Once ported, assign the number to a person or resource account as required, again it is assumed that you know what you are doing here.
Enabling the SIP Gateway
Luckily this is both free and very easy, being a single checkbox.
In the Teams Admin Center at https://admin.teams.microsoft.com/, open Calling policies, edit your policy, and enable SIP devices can be used for calls.
Then you can manage SIP devices under Teams devices to manage your SIP phones connected to Teams.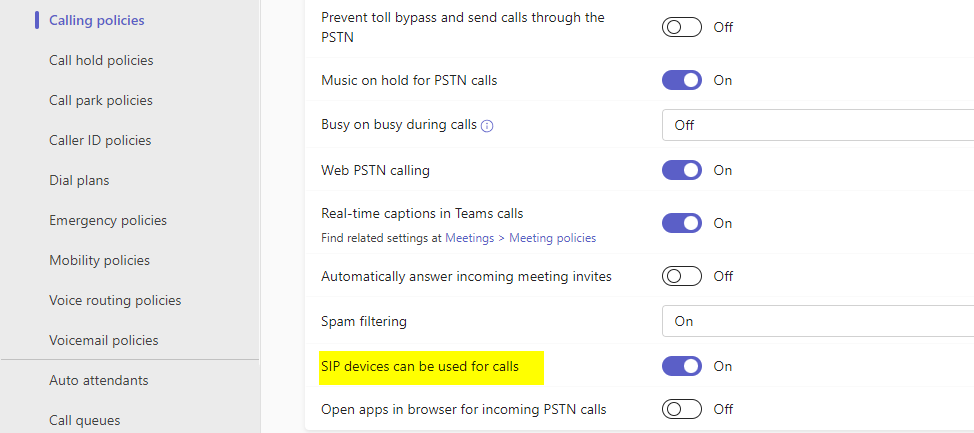 Configure handsets
Now that Teams is ready, connect the W70B gateway to Power and ethernet, or just use PoE. I'm using a Unifi PoE switch in my office, so easily able to identify on the network (although it incorrectly showed as a W60P, it says W70B on the base station):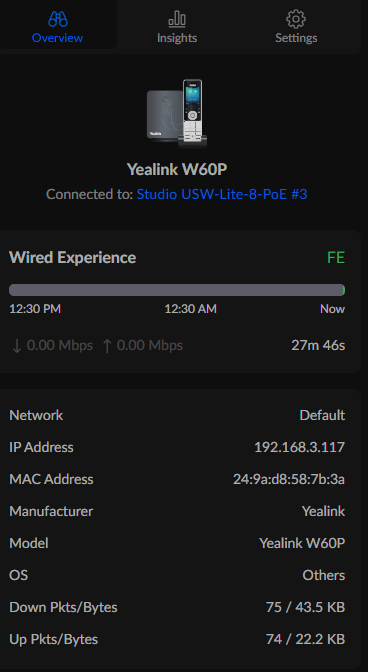 Now, connect to the web interface, in this case at https://192.168.3.117, and login with the default admin/admin.
Update firmware
Both the base station and handset need the SIP gateway compatible firmware. Download the Base-EMEA firmware from https://support.yealink.com/en/portal/docList?archiveType=software&productCode=2f0b614fff41468f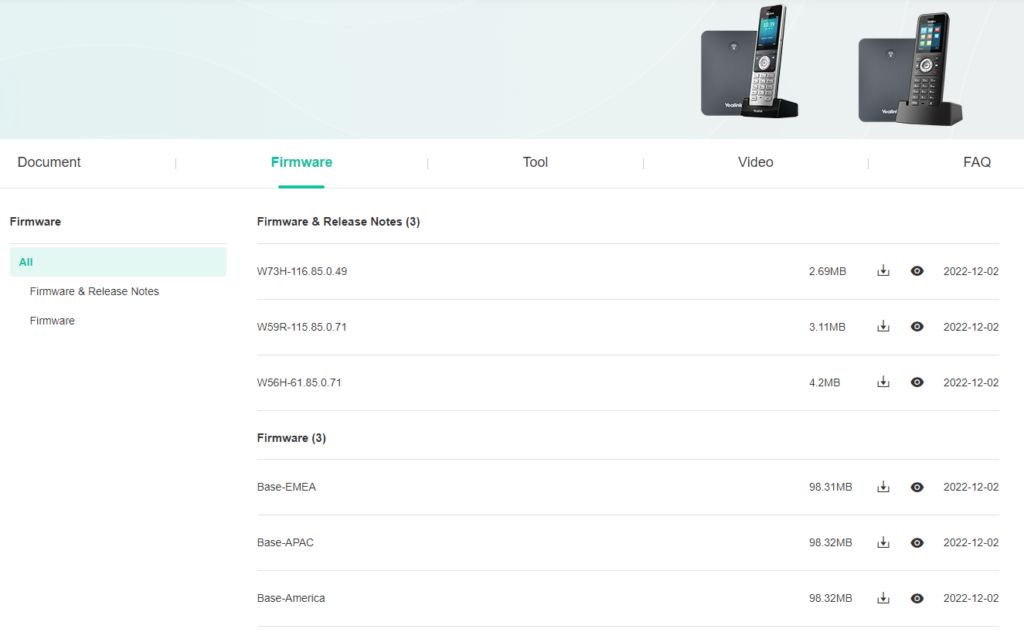 Extract the ZIP file, you can see this is for different base station models: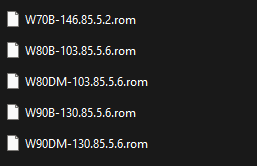 Click Settings > Upgrade and select the W70B firmware and upgrade. The lights will flash whilst it is updating.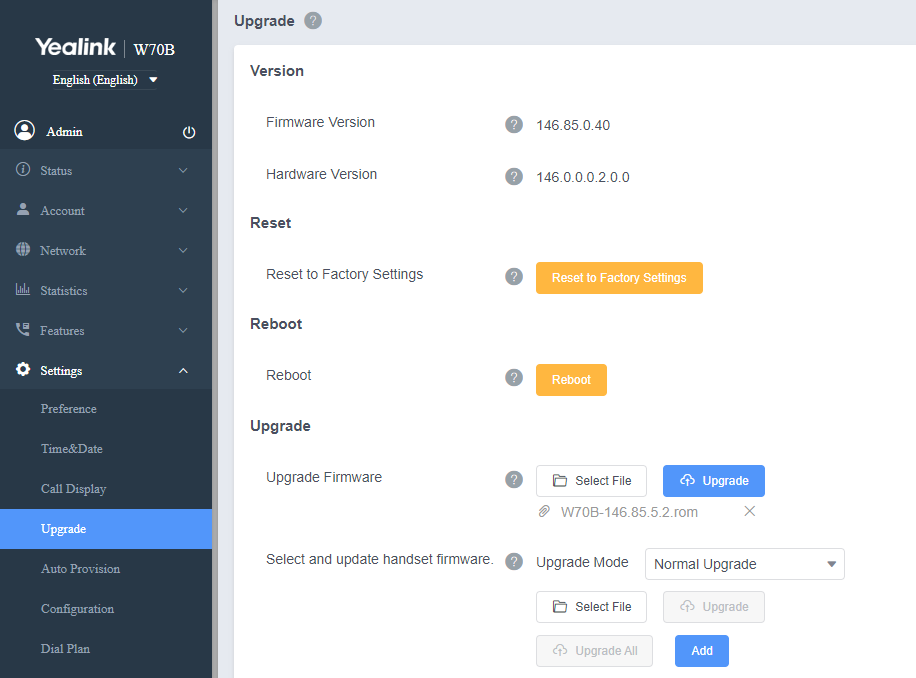 Once finished, check if the handset is registered in the web interface under Status > Handset & Voip, if not register it as per https://support.yealink.com/en/portal/knowledge/show?id=6458b6edb1fa936c57b56d12 (press and hold the register button on the base station, then press Reg softkey on the handset). Register all the handsets first.

Then again, click Settings > Upgrade and select the W73H firmware and upgrade, then click Upgrade All

Sign In to Microsoft Teams on the handset
After converting to the SIP Gateway version, you can use the compatible DECT devices to sign in to Microsoft Teams.
Select the Sign In Button and the handsets will present the Sign In address and Device Code.
Logged in as the (Teams) user, go to https://aka.ms/siplogin and enter the code. Teams users must have a phone number with PSTN calling enabled to use SIP Gateway.
On a successful sign-in, the DECT handsets will display the phone number and user name.
To get voicemail, set your own number in the voicemail settings on the handset.
That should be it!
Finally, if you have more than one handset, you can configure them on Number assignment on the base station Number Assignment page to assign all handsets to one user, or to different users, so the same base station can have multiple accounts registered: