This is how to fix an error received when trying to create a chat from a Work (Microsoft 365 business) account and Teams free or personal.
Symtoms
You try and initiate a chat to someone outside your organisation. They receive the message, click Accept, and then get an (unhelpful) error 'Something went wrong. Please try again.'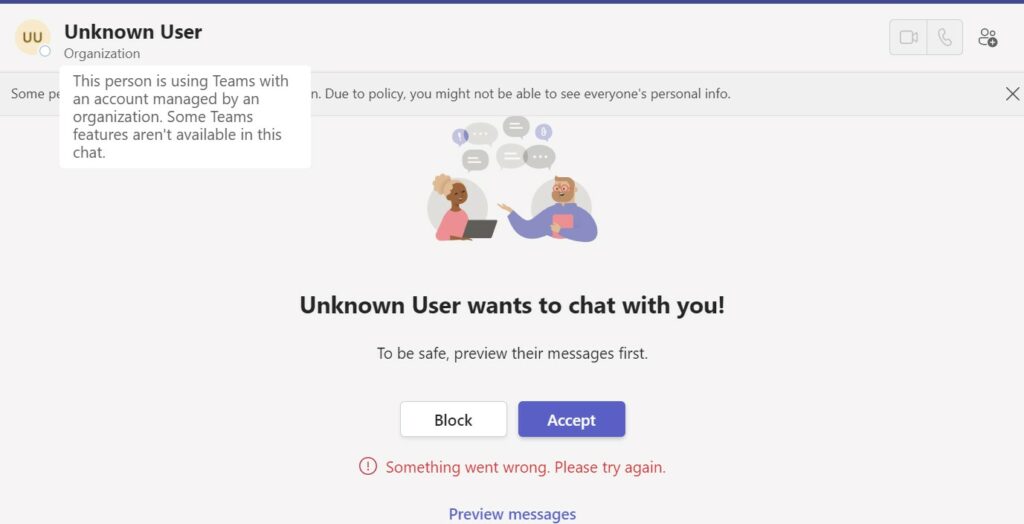 Resolution
This issue happens if you don't have both of the below boxes checked in Teams admin, under Users > External access:

You need to enabled 'People in my org can communicate with Teams users whose accounts aren't managed by an organization', as well as 'Setting changed in Teams admin: External users with Teams accounts not managed by an organization can contact users in my organization'.
Leave this at least one hour before asking the personal user to try again. They may need to then click block/unblock a few times to get this working.
This doesn't entirely make sense, you would think that enabling the first one would allow internal users to initiate a chat with a Teams personal user, however in multiple test tenants we found that it was required to tick the second box as well, otherwise the personal user could not accept the chat request.
Note: This is a potential security issue, since Teams personal users could send unsolicited messages to internal users, therefore be aware that you open your users up to spam if you turn this on. We therefore consider this a bug and will be reaching out to the Microsoft team to discuss.