One way of using outlook.com in order to receive from other domains, you can setup the domain as a custom domain using domains.live.com as per my other blog post at https://cloudrun.co.uk/web/using-a-custom-domain-with-outlook-com/ (N.B. Microsoft have disabled this, so it is not possible to use custom domains).
There is a neater way of doing this if you have an account at outlook.com which you use as your main account, and have other domains or email addresses which you also need to access. This enables you to send and receive emails from within the outlook.com web interface, as well as from most mobile device email clients e.g. Android, Windows Phone, and IOS.
This approach is also beneficial when using mobile devices, since you can still send and receive email from the other addresses, but you only have to add one account to the device. This saves time when setting up the device, but more importantly saves battery since the devices only have to communicate with one server.
To summarise, the method outlined achieves the following:
Setup your other email address to forward to outlook. This is the best method to receive emails as quickly as possible (near instant).
Setup Outlook to send emails through your provider, without 'Sent on behalf of' text.
Receiving emails in Outlook 
The best way of doing this, if you are able to setup an email forwarder at your ISP or hosting provider, is to just forward on the emails from your other account. Configuration steps will vary, but if you have you own domain this normally involves going into your domain hosting control panel, creating a mailbox, and then setting up a forwarder for it. I recommend doing it this way over using Outlook to fetch your emails, because your email delivery will then be instant, rather than relying on Outlook to poll your emails every 30 minutes or so.
Once done, test it by sending an email to the new address, and see if it arrives in your outlook.com mailbox which you have forwarded it to. That then takes care of the receiving mail part.
You can also do this easily in gmail for example, but going into Settings, and then Forwarding and POP/IMAP, and clicking on the 'Add a forwarding address' button.
Sending emails in Outlook.com
Now, how do you configure the account so that you can send email from the account also using outlook.com?
At Outlook.com, click on the settings cog icon, and then Options.
Click on Your email accounts
Now, you have already setup Receive using email forwarding, so just click on: Add a send-only account
Enter the name, for instance it might be a company generic mailbox e.g. Company Sales, and enter the email address e.g. sales@domain.com
Click Advanced options (don't enter a password)
Now there are 2 options for sending email:

Send emails using Outlook's server – this option will show your normal email address (on behalf of the other address). This is not ideal and can be confusing for recipients of the email, because they see both email addresses. So I do not recommend this.
Send emails using your provider's server – this option will send the email using SMTP through your providers SMTP servers. Contact your email provider where the domain is hosted, and find out what SMTP settings they need.
I would advise using the latter option if at all possible, it is by far the best option. To do this, you will need to provide details from your hosting provider, like this: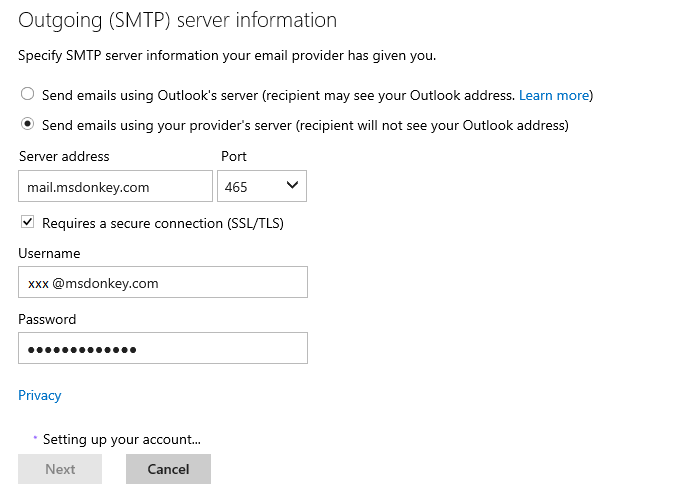 Make sure that you use the correct port and encryption details – if you don't want to use SSL then clear the box and use port 25. The account details should be those that are set with your provider. If you add gmail or another account which Outlook is aware of, it will add the SMTP server details automatically.
Once everything is setup, your accounts will be shows as send only in outlook.com. This is because you are only using outlook to send the emails, you receive emails by using the forwarder setting from your other account.
The great thing is that other mail clients using outlook.com, such as the Outlook app on Android, and the Windows 8 mail app, will allow you to send email from the other addresses. Using Android with the outlook app from Microsoft, when you create a new email, click the 3 dot more icon, and then choose 'change 'from' address.
Using Windows 8.1, when you have created a new email, just click on the More text under the To and CC fields, and then  choose your email address from the drop down at the top.
 Sort incoming email into folders
If you want to keep email from different addresses separate (for example, your personal address and business address), Outlook.com can automatically sort incoming mail into different folders as per http://windows.microsoft.com/en-gb/outlook/gmail
Click the Options icon

, then click More mail settings.
Under Customizing       Outlook,       click Rules for sorting new messages, and then click New.
Under Step 1:
On the first list, select To or Cc line.
On the second list, select contains.
In the text box, enter the address for the email you want to sort.
Under Step 2, do one of the following:
– If the folder already exists, select Move to and select the folder from the list.
– If the folder doesn't exist yet, select Move to a       new folder, and enter the folder name.
– You can also automatically forward, delete, add or remove a category, or flag the message.
Click Save.
I would also highly recommend that you setup 2-step authentication in your main accounts (outlook or gmail) in order to secure them further.