When you install Office 365 ProPlus, you may be presented with a screen which says 'Use this account everywhere on your device'. This is how to prevent that screen appearing, and prevent the Azure AD device registration that may result from pressing yes.
So this is how it goes, a user installs Office without issues. They fire up an Office app and get presented with this screen, so they duly sign in: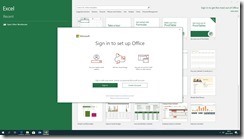 All goes well, until they get presented with this, at which point in a state of confusion they likely either just press yes, or possibly another option as we will see below: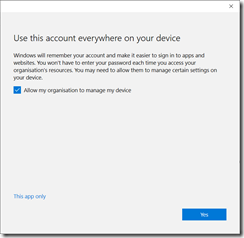 Hide this screen by preventing Azure AD registration
This screen can be hidden by editing the registry as per https://docs.microsoft.com/en-us/azure/active-directory/devices/hybrid-azuread-join-plan#review-things-you-should-know:
You can prevent your domain joined device from being Azure AD registered by adding this registry key – HKLM\SOFTWARE\Policies\Microsoft\Windows\WorkplaceJoin, "BlockAADWorkplaceJoin"=dword:00000001.
This registry key takes effect immediately and does not require a reboot. You won't see the screen again. Note that you can still use Hybrid join via AD Connect. If you want to know more about what this screen actually does, read on…
The screen above is confusing for users who often don't know which option to use. There are in fact 4 options for a user to take on this screen:
Click Yes
Untick 'Allow my organisation to manage my device' and then clicking Yes.
Click the cross
Click 'This app only'
Either of the first two options will allow Windows to remember your credentials, and make it easier to sign in to other apps in the future.
Now most users will just press Yes without unchecking the tick box. If they do this, the device will try and register itself in Azure Active Directory, which may or may not succeed. If it succeeds, devices will end up registered in Azure AD and you can see them in the Azure Portal. See https://docs.microsoft.com/en-us/azure/active-directory/devices/overview if you want to know more about what device registration does.
When a device is registered in Azure AD, it allows an Administrator to block access to that tenant by clicking Delete. This will prevent the device from gaining access to any data in that tenant, so can be used if a device is lost for example. It does not allow any other management, for example the administrator cannot wipe or reset your device, or see any information on it. Further management can be done using Intune as an MDM, but this requires further configuration of the PC (enrolment).
This screenshot shows a Windows machine which is registered in Azure AD.

…and can be seen in the Access work or school page in Settings (and this is also how to deregister a device):