This is a brief guide showing how to collaborate with external users in Microsoft Teams.
Prerequisites
Note that you should make sure your tenant is configured in an optimal manner to ensure that guests can connect seamlessly. Follow our guide here to ensure that external users can connect as easily as possible.
Federation vs Guest access
Currently, there are two ways of collaborating with external users in Teams, federation and Guest access. This is somewhat confusing but just how the product works at the moment. The difference is shown below:
| | | |
| --- | --- | --- |
| Feature | Federation | Guest access (requires tenant switching) |
| Chat | Yes (own tenant) | Yes |
| Call | Yes (own tenant) | Yes |
| Add to Teams | No | Yes |
| Share files | No | Yes |
Recommendations are as follows:
If you just want to call and chat, use federation.
If you need to add external users to Teams, use Guest access.
If you need both call/chat, and adding to Teams, use both.
Note that although you can call/chat with Guests, because this requires tenant switching (see later section), the external user will likely not see the call or chat notification, since they will be in their own tenant. The first they will know about the communication is when they get an email saying they have missed something.
Federation (also known as external access) is simpler and allows chat and calls with external users directly. Note that domains have to be authorised and added via a MyIT request before this will work. Once the domain has been added, you can communicate directly with any user at the external domain if you have their email address.
Also note that the external organisation may have to allow federation with UKPN for this to work.
In Teams, click on Chat, then the New chat button.
Type in the users external email address.
In the box that pops up, choose Search … externally.
The box will change if the external user is found, click on the user's name (External).

Note: If you see both (External) and (Guest) when you want to chat or call, make sure to choose External, this is preferred for calls and chat.
Click to type a message, or you could call the user.
Note that the presence information should also be shown once you are connected:

If you message or call an external user, they will simply see the notifications pop up in their Teams client as normal (if you are using external access or federation).
Note that they will also be able to see your presence and message you directly, i.e., communication is two-way.
This is required if you need to add an external user to a Team, rather just chat or calls.
If you are a Team owner, you can invite external users to your Team as a Guest. Note that Guests may need to be from an authorised domain.
In Teams, click on Teams on the left, then click on the 3 dots next to your Team.
Choose Add member.
Click Add … as a guest, then click the Add button.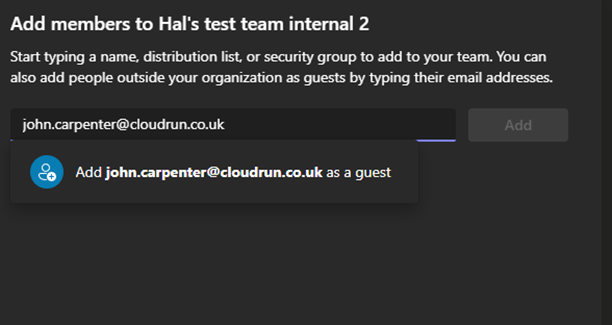 The external user will receive an email: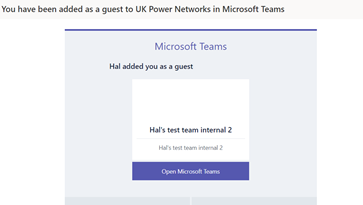 When they click on the link they will need to click Accept: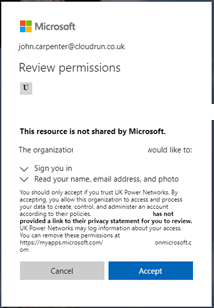 They use their own credentials to login and will not have to create a password. Note that they may need to add information for MFA (multi factor authentication) including downloading or setting up the Authenticator app or adding a phone number if they don't use MFA already. This depends on you Azure AD external access and conditional access policies.
Tenant switching
Note that the external user will need to switch tenants in Teams in order to view the Team that they have been added to whenever they need to use the Team. This will be easier in a future Teams update using a feature called Shared channels (no tenant switching will be required).
This is done by clicking on the company name in the top right and choosing the external company: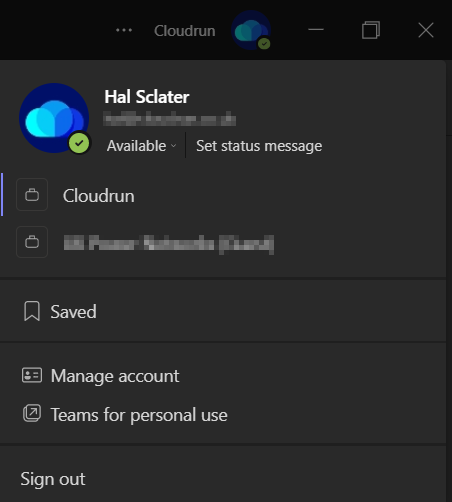 Note: if you don't have the option to switch tenants, try signing out of Teams, close all Teams processes in task manager, and then sign in again. Failing that clear the Teams cache.
For more information about external access, see https://docs.microsoft.com/en-us/microsoftteams/communicate-with-users-from-other-organizations.