A short guide on how to configure Unifi WPA Enterprise with Radius on Windows Server NPS. This is for Windows 2012 or 2016. Unifi wireless is a great solution for mid-sized businesses, with Enterprise-class features at an affordable cost. We typically use the controller on a Linux VM which is free.
Prerequisites
This guide assumes that you already have your access points online, and your controller is configured at a basic level. You will also need a Windows Server you can use for RADIUS services.
Your Access Points (APs) must have DHCP reserved or static IP addresses.
NPS Configuration
Install NPS
Add Roles and Features on your Windows server that will host RADIUS
Add Network Policy and Access Services role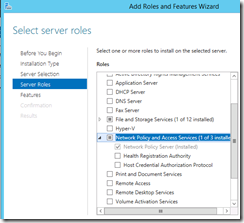 Configure NPS
Add Clients
Open run, type nps.msc
Create a new Shared Secrets Template under Templates anagement/Shared Secrets. Call it UniFi Secret Template.
On the left-hand sidebar expand 'RADIUS Clients and Servers'.
Right-click 'RADIUS Clients' and select "New".
Enter the Display Name and IP address of the device that will be authenticating against your RADIUS server, in this case 10.0.0.71, give it a friendly name.
Choose the UniFi Secret Template.
Click 'OK'.
Repeat this for the other access points.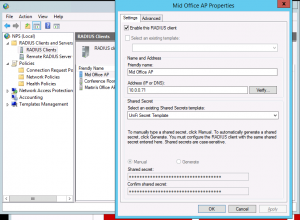 Now that we've defined our client the device is now able to actually talk to RADIUS and perform authentication. However, before users can authenticate, we also have to create a policy to associate with users.
User Policy
Create a new group in AD called WiFi Users
On the left-hand sidebar expand 'Policies'.
Right-click 'Network Policies' and select "New".
Type in a name for this connection policy: UniFi and click 'Next'.
In 'Conditions' click 'Add…'
Select the "User Groups" option and click 'Add…'.
In the 'User Groups' popup click 'Add Group' and enter a group which will be authorized corporate WiFi users.
Click 'OK', 'Next'. Ensure "Access granted" is selected and click 'Next'.
Remove the Less secure methods and add PEAP and EAP-MSCHAP v2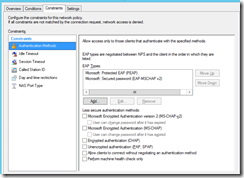 No constraints are necessary. Click 'Next'.
No specific policy settings are necessary. Click 'Next'.
Review the final options and click 'Finish'.
UnFi Configuration
Click Profiles and Create New Radius Profile
Called the profile SERVER_RADIUS
Don't choose a VLAN unless required
Enter the NPS server IP address
Paste in the shared key and save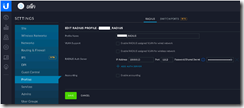 Now go back and edit OfficeWiFi3 network
Choose WPA Enterprise
Select the RADIUS profile and Save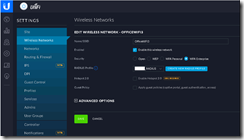 Configure remaining APs
Connect remaining APs to the network
Adopt the APs and give them a name
Reserve their addresses in DHCP, and then add as RADIUS clients with the same settings and secret.