Microsoft (Office) 365 licensing can be confusing. There is a lot of conflicting information and advice out there, even on Microsoft's own website. When you need to do things like adding and removing licenses, or cancelling subscriptions, there are several different options. This guide attempts to de-mystify these processes so you can understand the differences and implications, which will help you optimise your license strategy and ultimately save you money.
Note: this article only applies if you are buying licenses directly from Microsoft, rather than through a reseller or partner. If you are buying through a CSP then contact them directly to discuss the options.
Buying licenses
The first thing you may notice, is that some products have a month to month option, as well as an annual commitment option. For example:

These are the same products and one of them is cheaper, so what is the difference, and which should you choose? The interesting thing is that annual commitment does not actually commit you to keeping these licenses for a whole year as the name implies, so the good news is that you generally always want the cheaper option. Let's try and understand the difference.
Monthly vs Annual commitment
Monthly commitment is only available some SKUs, basically most of them apart from standalone plans. According to the Microsoft, this is the difference (see What is Microsoft 365 for business | FAQs).
Monthly commitment payment: You pay month to month, and you can cancel at any time.
Annual commitment payment: You sign up for a one-year subscription, but you can choose to pay month to month or pay for the entire year at the time you sign up. There is a discount for using this payment option.
This statement 'You sign up for a one-year subscription' is rather misleading however, because you can still cancel it whenever you want without any penalty. You are not therefore committed to paying for these for a whole year, you can cancel completely or change to another product and you'll just pay the difference.
So, the options for most products are: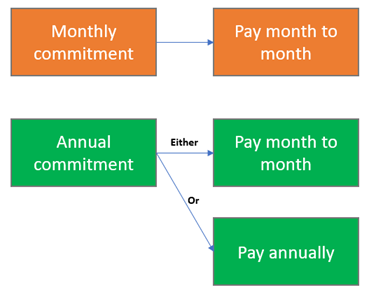 Monthly commitment is available for most Microsoft 365 Business, Microsoft 365 Enterprise, and Office 365 Enterprise subscriptions. Note that the Microsoft FAQs do not mention that monthly is available for Microsoft 365 Enterprise and Office 365 Enterprise plans.
The following plans are available to purchase month to month:
Microsoft 365 Business Premium
Microsoft 365 Business Standard
Microsoft 365 Apps for Business
Microsoft 365 Business Basic
Microsoft 365 E3
Microsoft 365 E5
Microsoft 365 F1
Microsoft 365 F3
Office 365 E3
Office 365 E5
Office 365 E1
Office 365 F3
Standalone plans such as Enterprise Mobility + Security (EMS), Azure Active Directory Premium, PowerBI and Windows 10 Enterprise, are only available with annual commitment. For example, Exchange Online Plan 2 is £6 a month, or £72 a year, both are annual commitment. There is no monthly commitment option for these standalone plans.
Example
If you want to buy Microsoft 365 Business Premium, you can choose Monthly, or the cheaper annual commitment:

If you choose the cheaper option, £15.10 annual commitment, you can then choose if you want to pay monthly or annually, this is simply your preference and does not affect the monthly cost (i.e. £15.10 * 12 = £181.20).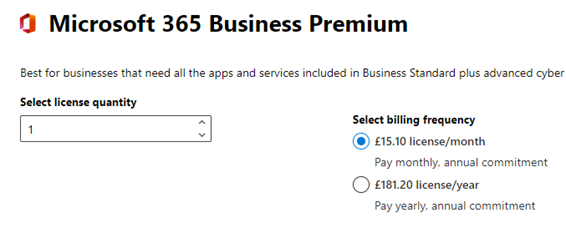 Cancelling (removing) an annual commitment license
Annual commitment subscriptions apparently incur a one month penalty if cancelled early, refer to the Microsoft Online Subscription Agreement section 3 b. (iv):
'Other Subscriptions. For all other Subscriptions, if you terminate a Subscription before the end of the Term, you must pay a fee equal to one month's subscription fee and you will receive a refund of any portion of the subscription fee you have paid for the remainder of the Term; provided, however, no refunds will be provided for partially unused months.'
Note that this does contradict this page, see 'Cancel your subscription at any time' at What is Microsoft 365 for business | FAQs which says:
'Annual commitment subscriptions that are paid month to month may incur some penalties if cancelled early. Annual commitment subscriptions that are paid upfront do not receive a refund if cancelled prior to the full contract period.'
I don't believe that the last statement is correct, and I've tested it below to see what happens You can still cancel an annual commitment license that has been paid upfront annually, your refund will be the number of complete months that you have left, minus one month as a penalty. In my testing there wasn't even any penalty however, it was just prorated. You will need to wait 30 days for a refund. Annual commitment is therefore really very similar to 1 month commitment. I contacted Microsoft to confirm this and was told:
'The annual commitment plans have a prorated refund applied upon cancellation, because you are being charged for the amount of time the subscription is being utilized. This also immediately terminates your services. For example, cancelling a Monthly paid Annual Commitment subscription 6 1/2 months in will result in a charge for half of the month, then a refund for the unused time, which breaks down to a 5 1/2 month refund.'
I have tested by cancelling an annual commitment license that was paid for upfront for the whole year, and indeed a refund was received with no penalty.
Example:
7 x Exchange Online Plan 1 licenses were purchased for a year and paid upfront. First, I freed up the licenses first so they can be removed, now there is one spare: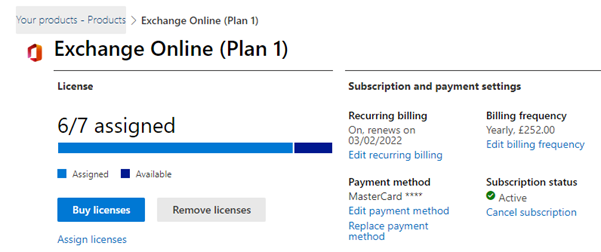 Click Remove and the new yearly cost is shown, the refund will be in your next bill as mentioned.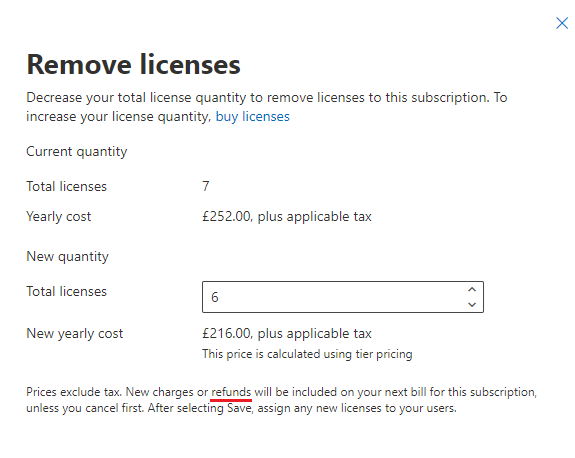 When the invoice came through, £30.41 had indeed been refunded, the change was made on 22/05/21, Exchange Online Plan 1 is £3 per user per month, so about 10 months has been refunded, which is about right since just over 2 months had passed since the renewal.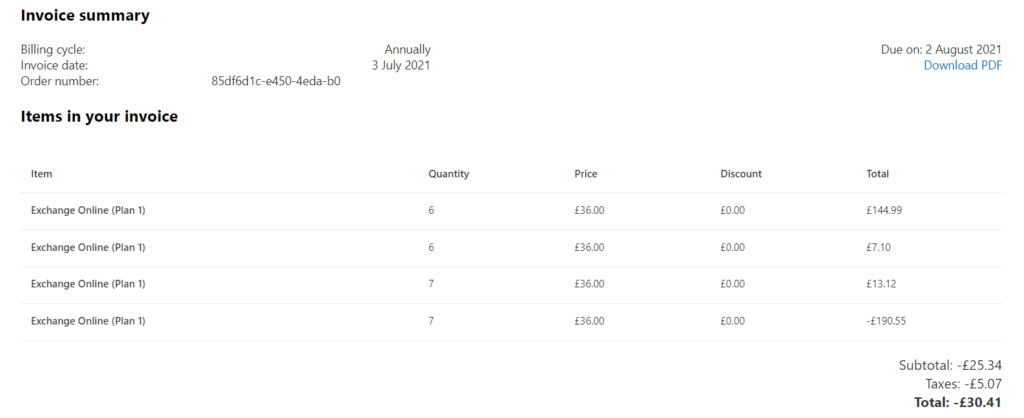 Looking at the PDF invoice, you can see how this was calculated on a pro-rata basis:

Upgrading or changing a subscription
Upgrading all users
If you want to upgrade all users using a subscription to a new product, this is easy:
You can upgrade all licenses:
Your products > Select product > View upgrades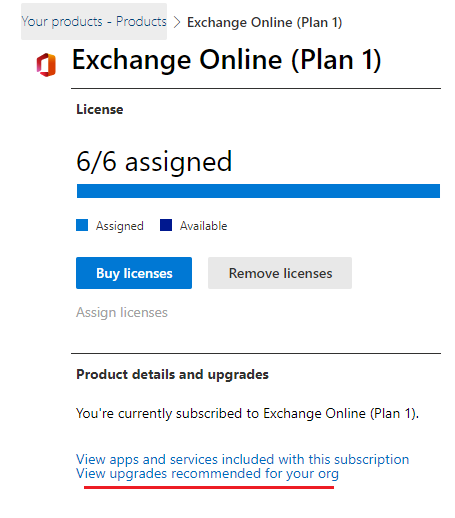 You'll then see the products which you can upgrade to, select Upgrade to upgrade all the licenses for the selected product.

See Change Microsoft 365 for business plans manually | Microsoft Docs for more details on this process.
Upgrading some users
If you want to upgrade only some of the users, you need to:
Removing licenses
Unassign the license from each user who has it.
Go to Billing > Your Products > Select your product.
Click Remove licenses
Cancelling a subscription
This is used in the following scenarios:
You want to upgrade one or more users, but not all the users using a product. In this case you need to remove a license and then add a new one.
You just don't want the license anymore, e.g. someone has left and is not being replaced.
You want to downgrade.
In these situations, you need to remove a license before adding a new one.
You have 2 options when you want to cancel:
Turn off recurring billing
This is the best option to use if you just want the licenses to continue until the end of the billing period, either monthly or annually. The licenses will continue to work and won't be renewed on the date shown.
Go to admin.office.com.
Go to Billing > Your Products > Select your product.
Click Edit recurring billing.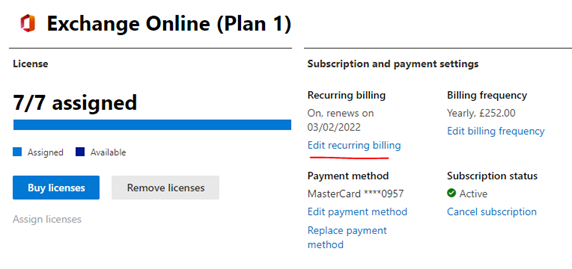 Then just choose off and it will expire on the data shown. Affected users will have 30 days grace, when they can still use the products with the expired license.
Cancelling a subscription
If you choose to cancel a subscription, it will be removed immediately.
You can cancel at any time without penalty.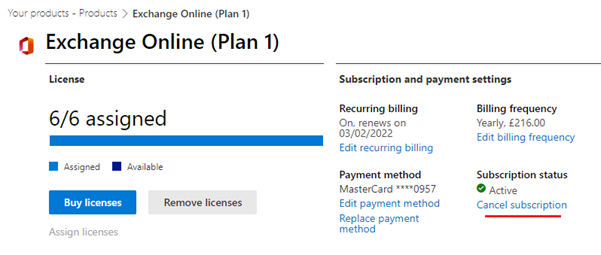 Summary
Microsoft 365 licensing is very flexible. You can add or remote licenses whenever you want without penalty, even if you have paid for the whole year up front.
When buying licenses, it makes sense to choose the annual commitment licenses, since they are cheaper and can still be cancelled any time.