You may find that when you run the Exchange Hybrid Configuration Wizard that it does not run. If you launch it from Exchange Admin Center, or from the Exchange Online Admin Center, it may just flash up and do nothing.
The solution is to change the file association for .application files to Internet Explorer. However, if you try in the Control Panel, you will find that this is impossible: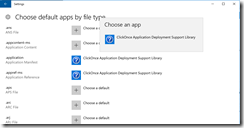 The solution is to do this using good old Windows Explorer.
Check you are viewing file extensions in Windows Explorer (View > File name extensions)
Right click in your Documents folder or somewhere, create a new file called test.application
Right click on it and choose Properties, and change the application to Internet Explorer
Now you should be able to run the application