In order to allow users to invite external guests to collaborate in Teams, you may find you get an error: You are not authorised, when adding external guests.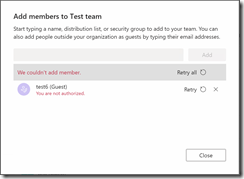 This is because the Guest setting has to be enabled in two places, the first is to allow guests to use your Teams sites, and the second is to allow your users to invite external guests.
Enable Guest access to Teams
Go to the Office 365 Portal at https://portal.office.com
Click Settings > Services & add-ins > Microsoft Teams
Under Settings by user/license type, drop the list down and choose Guest
Then set the switch to On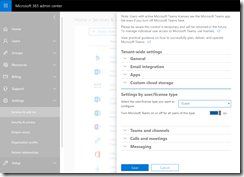 Enable users to add guests in Azure AD
You also need to change this setting to enable users to invite guests if you have not set this up already. The alternative to this is adding guests as an Admin into Azure AD, after which they can be added by Team owners.
Bear in mind that this affects other services in Office 365 / Azure.
Go to the Azure Portal at https://portal.azure.com, then open the Azure Active Directory blade
Click Users under Manage
Click User Settings, and then Manage external collaboration settings:
Set Members can invite to Yes (you should generally set Guests can invite as No)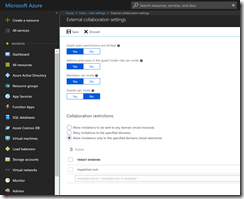 Now this is rather open by default, so we can then restrict the types of guests as follows:
Setting Collaboration restrictions
Now, choose how restrictive you want to be by setting the collaboration restrictions to one of the options:
Allow invitations to be sent to any domain
Deny invitations to the specified domain
Allow invitations only to the specified domain (recommended)