Microsoft Forms is an easy way to create forms and collect responses. However, by default Forms are deleted and the data lost when a user leaves an organization. This article describes how to create or change forms so that they are not deleted when users leave. It also describes how to restore forms if a user account has already been deleted less than 30 days ago.
Overview
If a user creates a form via https://forms.office.com/, by default this will linked to their personal account only. Furthermore, the data is not stored anywhere outside the form itself, and is not protected by retention policies.
Individually created forms therefore have the following limitations and risks:
If a user account is deleted, the form data is deleted after 30 days.
The form can be recovered only during this 30 day window, it is not possible to recover the data afterwards.
Personal form data is not stored in Exchange or SharePoint or any accessible location, and is not held if you have retention policies.
Although the responses can be downloaded as an Excel file, this is only generated on request.
If that data should in any way persist or not be tied to an individual user, forms should not be created using https://forms.office.com and instead be linked to a group (see following section).
Restoring a form for a deleted or disabled user (admins only)
If a user has already left, an admin can recover the form for up to 30 days after the account has been deleted. The requirements are:
Your account needs to be global administrator or office application administrator of the organization and have a valid Forms license.
The employee whose form you want to transfer has an account that has been deleted or disabled.
The form is transferred within 30 days of when an account was deleted (no limit if the account is just disabled).
To recover the form:
https://forms.office.com/Pages/delegatepage.aspx?originalowner=[email address]
e.g.
On the form, click More form actions, and then select Move.
Choose to move to your forms, or a group.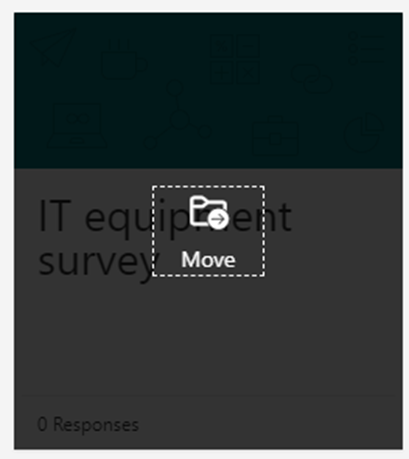 If the user was deleted more than 30 days ago, you will see an error: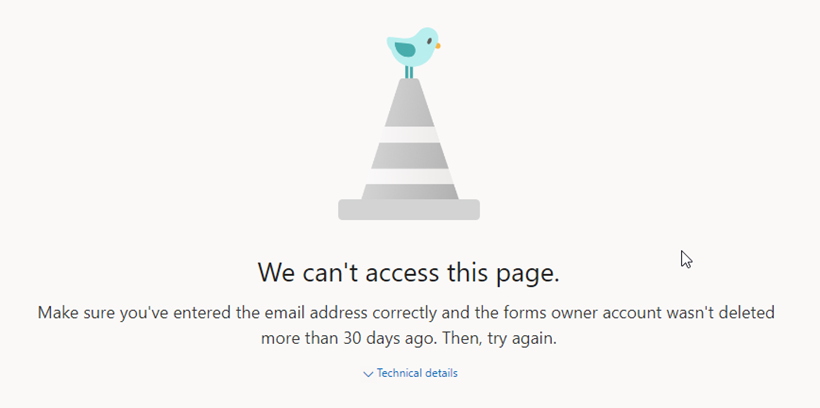 See https://learn.microsoft.com/en-gb/microsoft-forms/admin-information for more information.
Restoring a deleted form
You can also restore a form in case it was deleted it by mistake.
Go to https://forms.office.com.
Click on Recycle bin.
On the form you want to delete, select More options in the lower right corner of the form tile, and then click Restore.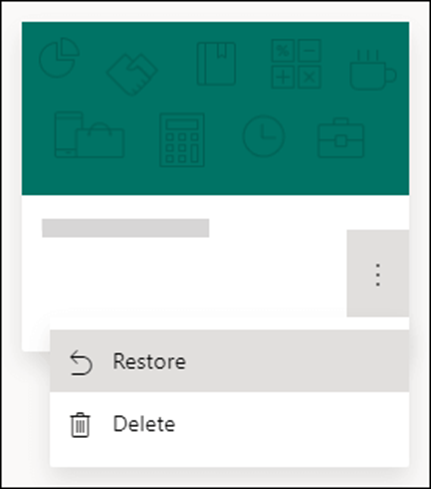 To see your recovered form, go back.
See https://support.microsoft.com/en-us/office/delete-a-form-or-recover-a-deleted-form-2207e468-ce1b-4c4a-a256-caf631d87af0 for more details.
Move a form to a group
If an individual already created the form using forms.office.com, you can move it to a Team or group.
Go to https://forms.office.com
On the form you want to move, select More options in the upper right corner of its tile, and then choose 'Move' or 'Move to a group'
Choose the group you want to move your form to, and then select Move.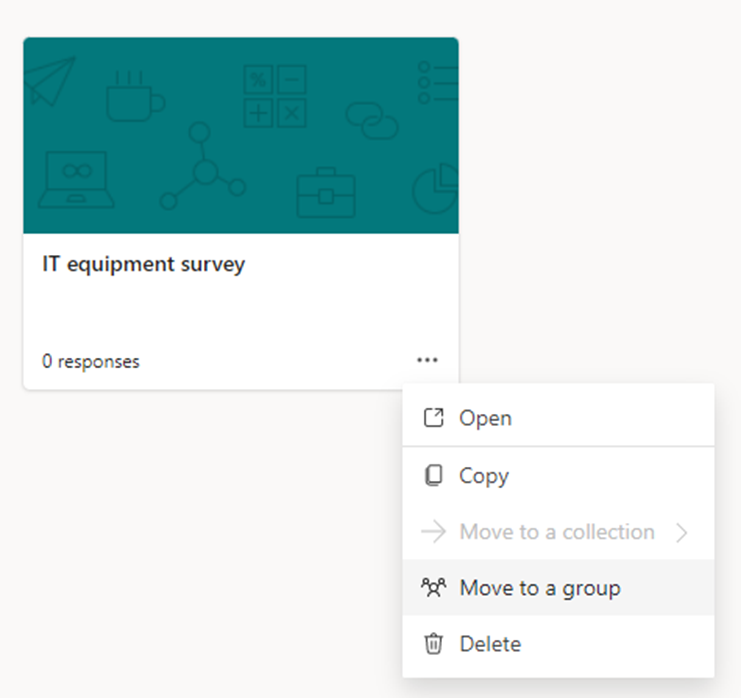 See https://support.microsoft.com/en-us/office/move-your-form-to-a-group-921a6361-a4e5-44ea-bce9-c4ed63aa54b4?ui=en-us&rs=en-gb&ad=gb for more information.
Creating a form linked to a group
If a form is created and linked to a 365 group (such as a Team), the form and the collected data will be stored in the team SharePoint site as an Excel file. It's then easy to access, back up, and will be subject to any retention policies applying to SharePoint online.
The easiest way to do this is using Teams. Note that all Team members will have edit rights to the form, as well as be able to see all responses.
In a Teams channel (e.g. General), click the + to add a Tab and choose Forms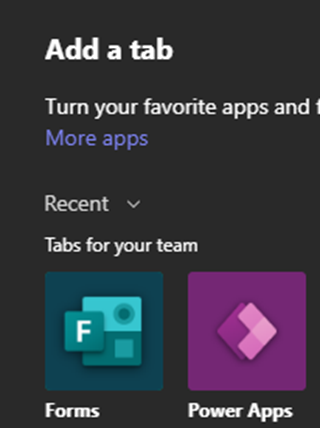 Choose the first option to create a shared form:
Create the form as normal, you can share the link to the form using the Collect Responses button. You could also use this link to add to any SharePoint page.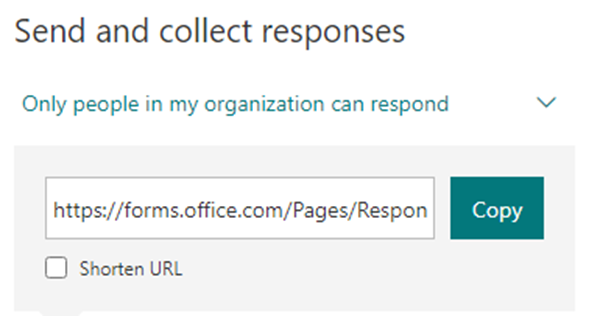 Submitted data from the form will be saved to the responses tab, and also automatically saved to an Excel Spreadsheet in the General channel/folder. Al Team members will have access to this data.