This is a review of the Jabra 75t Elite, and how to use these excellent earbuds with Microsoft Teams. This should also apply to other Jabra earbuds, such as the Elite 85t.
So, it's lockdown #3 in the UK. I have a home office with 2 kids doing their homework, chatting to friends, on Teams calls, etc, which is pretty distracting.
I was previously using a Jabra Evolve 65 wireless headset for work, which is a great headset and was fine when I was the only one in the office, but with everyone at home on Teams calls all day, the lack of noise isolation was a problem. So I needed to find a headset with active noise cancellation, that also works well with Teams.
I do have AirPods Pro but these don't work well at all with Teams on PCs; whilst they can be paired there is no volume adjust in Teams calls so they are always full volume, which makes them unusable. It's no problem using Airpods with an iOS device, however, but that's not ideal when on Teams calls most of the day. This review does make some comparisons between the Jabra's and Airpods Pro, simply because I have both, but the Airpods are a bit slicker when used with an iPhone due to some Apple magic, the Jabra's don't pair or start playing music as immediately as the AirPods for example so aren't quite as slick as some areas. But they more than make up for it with other features.
Jabra does make Teams certified earbuds, the MS variant of the Evolve 65t https://www.jabra.co.uk/business/office-headsets/jabra-evolve/jabra-evolve-65t, however that is an older, more chunky design and only has passive noise cancellation, not active. The Evolve 65t MS comes with one of the Jabra Bluetooth dongles, and these dongles improve the audio performance and add Teams features with a PC, but really, the only thing that is special about the 65t MS variant is the dongle.
I tested the 75t with and without the dongle and found the following:
Without the dongle, the bluetooth range is about 2m. With the dongle, I can walk 10m to the bottom of my garden and still be on a call.
With the dongle you can use the right button to answer and hangup calls.
This is confirmed by Jabra: What are the advantages of using the Jabra Link Bluetooth adapter included? | Jabra Link 370 USB adapter MS | FAQ | Jabra Support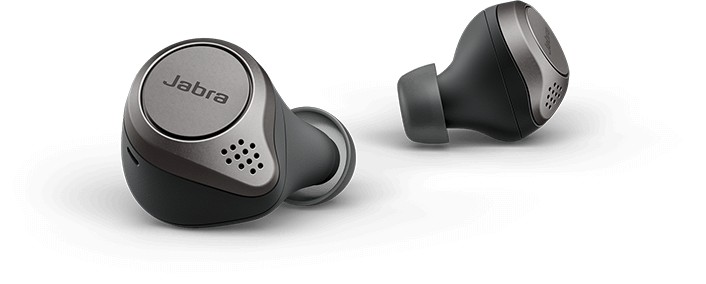 So whilst you could get the Evolve 65t MS, you can also just use another Jabra headset such as the 75t (I got the Elite Active variant which is IP rated showerproof), and pair it with a Jabra dongle using the Jabra Direct app on MacOS or Windows. I would recommend the Jabra Link 370 adapter (I have heard there are issues with the 380 still) – so either buy one off eBay, or use one that came with another headset if you have one. Then all you need to do is:
Buy the Jabra Elite 75t
Buy or use an existing Jabra Link 370 adapter
Pair the two using Jabra Direct.
This solution works perfectly for me and allows you to benefit from the more advanced features of the Elite range, such as Active Noise Cancellation, as well as a solid Teams experience. After 2 weeks of daily use, these were my findings.
Disclaimer: this is not a Teams-certified solution which I would normally always recommend, so there are no guarantees on performance, but I am just stating my findings. Your mileage may vary.
Teams performance
Overall, with the Jabra Link 370 dongle, the Elite 75t earbuds work perfectly with Teams on PC, great sound, no complaints from anyone, and I can't hear my kids talking in the background. A colleague has the 65t which does pick up quite a bit of ambient noise, e.g. noisy family members talking in the same room, I've not had any complaints about the 75t, even when I've been in an open-plan office, but it's probably not as good as a full-size headset with a boom mic.
You can of course also use them for Teams on your phone as well.
Features
The 75t can be paired to 2 devices at once. This is a fantastic feature and I wish Apple would do this, I can listen to music from Spotify on my phone, and if a call comes in on my laptop I can answer it there. This works so well, you don't have to stop music from the phone, just answer the call, the music stops, then when the call finishes the music resumes. There's no need to switch headsets and being able to use two devices interchangeably is a game-changer for me. I have some issues, however, where occasionally my phone will refuse to play anything even though the device is connected. If I play a sound on the PC (e.g. just changing the volume), then for some reason the phone will then also be able to start. Hopefully, this will be fixed in an update.
Jabra also recently added active noise cancellation. It's not quite as good as the AirPods Pro, but it's good enough. Make sure you update the firmware via the app to enable this feature since it was only added in the latest 2.0 firmware release. However, the 75t somehow amplifies your voice and you can even hear your heart beating when wearing them which is a bit odd, the AirPods Pro don't suffer from this as much. It also has a transparent mode so safer for cycling, running etc, and this works fine.
The mobile app has a lot of settings, as well as soundscapes to help you concentrate or sleep (rain, wave noises etc). You can also choose different presets for commute, work et, as well as equaliser, so some nice features that Airpods don't have.
These are IP57 rated, and can actually be immersed briefly in water and they will survive. Better than the Airpods which are only sweat proof. I can take these running in the rain. +1 Jabra.
Sound
Sound is excellent, music sounds so much better and has more bass than the AirPods Pro. AirPods Pro honestly sound tinny in comparison.
Fit and Comfort
They are bigger and heavier than the Airpods Pro, and personally, I did not find them comfortable out of the box. In fact, I really struggled with them at first until I swapped the tips for the SpinFit CP360's, which I found recommended and listed as being compatible with Jabra's. These tips made a huge difference to me. To be as good as the tips that come with the 75t's they needed to fit securely (so they don't come off in your ear), fit in the case, and sound good with music. They did all of these, and on top of that they make the earbuds more comfortable, so I highly recommend them. They come with 2 pairs of tips, small and medium, and I ended up using one of each. Once that problem was sorted, they do look neater and more discrete than the awful white Airpods with a stick, and are just as comfortable.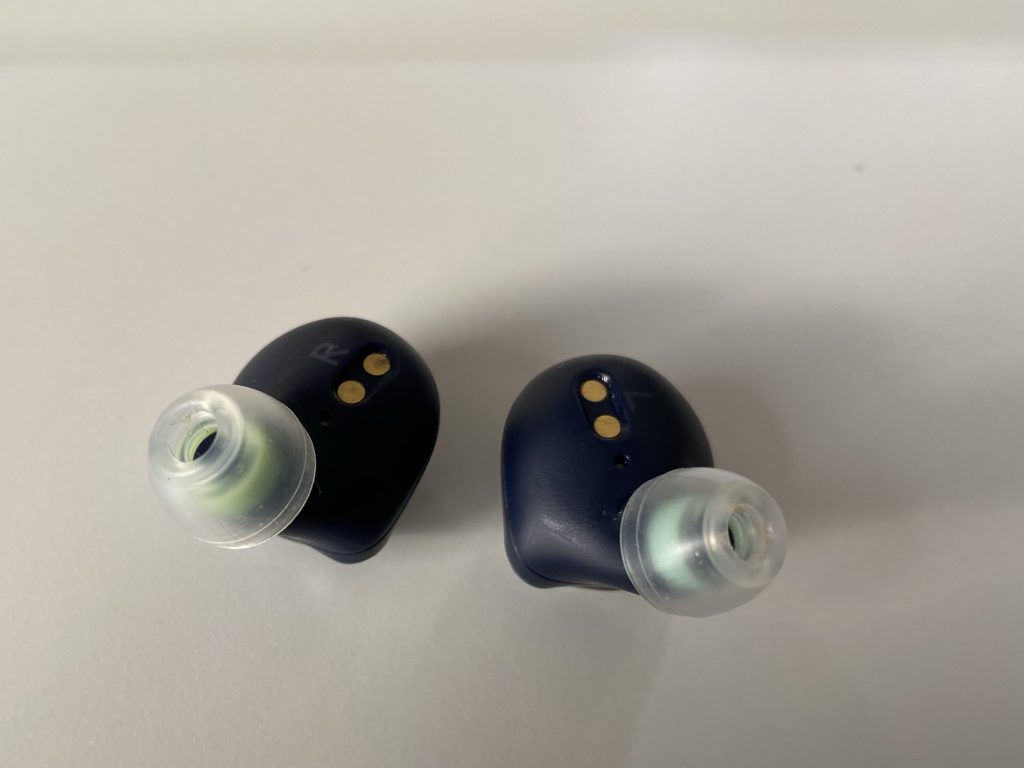 Conclusion
The 75t/dongle combo really hits a sweet spot for home working, I can get in the zone with some music and ANC, jump on a Teams call, go for a run in the rain – really these are the earbuds that do everything. I would highly recommend giving them a try, especially with the SpinFit tips if you struggle with comfort.
I managed to pick up the Navy Elite Active 75t for £120 on Amazon which was an absolute bargain, but keep an eye on the price as it does vary. Note: I also managed to buy a pair of fakes on ebay, so watch out for that! They were dreadful.
The good:
Once you get the right fit and tips, comfortable.
Connecting to 2 devices at once is a game changer.
Excellent sound for music.
Great for Teams calls with a dongle – better range, answer and hangup calls.
IP57 waterproof rated.
The bad:
Picks up ambient noise more than a full size headset.
Not quite as seamless an AirPods with iOS devices.
Sponsored links to the items mentioned in this article:
Jabra Elite Active 75t Earbuds
Jabra Evolve 65t True Wireless Earbuds – Microsoft Certified