In on-premises versions of Exchange, you could update address lists manually, as well as modifying the schedule through which they were updated.
Exchange Online only updates the Default Offline Address Book (OAB) once a day, and can take another day after that to be available to users. So unfortunately as per this Microsoft article, 'It can take 24 to 48 hours for the GAL to update the OAB. Check back after another 24 hours to see whether the OAB is updated.'
Note that you can see a schedule by running the following command:
$schedule = Get-OfflineAddressBook "Default Offline Address Book" | Select-Object schedule
$schedule.Schedule
Sun.05:00-Sun.05:15
Mon.05:00-Mon.05:15
Tue.05:00-Tue.05:15
Wed.05:00-Wed.05:15
Thu.05:00-Thu.05:15
Fri.05:00-Fri.05:15
Sat.05:00-Sat.05:15
However, as per https://blogs.technet.microsoft.com/exchange/2013/01/14/managing-oab-in-exchange-server-2013/ later versions of Exchange don't use this setting, you should use get-mailboxserver [servername] | fl *oab* however this command is not available in Exchange Online. I assume therefore that this 5am schedule is the setting that is used either way, but frankly can't be sure.
Also Update-OfflineAddressBook is not available in Exchange Online PowerShell, so it is not even possible to update it manually.
So a typical address book update might look like this:
At 9am a new user is created, which updates in the GAL immediately, and can be seen via OWA.
At 5am the next day the OAB is updated.
The OAB is updated the next time users start Outlook (Outlook checks for a newer version), or they manually download the OAB
So the process can easily take up to 24 hours before the new users are visible in the address book. The best you can do with Office 365, is to wait until the next day after 5am, and then either restart outlook or force the OAB download using the below method. Hardly ideal, but until Microsoft add this functionality this is the only option. Add your vote for this feature here! https://office365.uservoice.com/forums/264636-general/suggestions/14919246-please-allow-admins-to-force-update-offline-addres
Download the latest copy of the OAB
To download the latest copy of the OAB manually, follow these steps:
1. In Outlook click on the Send/Receive tab, then Send/Receive Groups, and then click Download Address Book.
2. In the Offline Address Book dialog box, click to clear the Download changes since last Send/Receive check box, and then click OK.
You can check the date of the OAB files by opening "%localappdata%\Local\Microsoft\Outlook\Offline Address Books"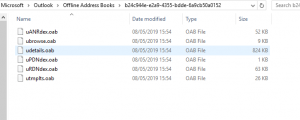 Other references
https://docs.microsoft.com/en-us/exchange/address-books/offline-address-books/offline-address-books
https://docs.microsoft.com/en-us/exchange/address-books/offline-address-books/offline-address-book-procedures
https://support.microsoft.com/en-gb/help/2427141/you-can-t-find-a-user-in-the-offline-address-book-in-office-365