A free alternative to products such as LogMeIn Ignition, VNC Connect, and TeamViewer, Quick assist is a very useful but little-known feature of Windows 10 that has been around since the anniversary update (version 1607). It's easy to use and is built into the operating system so users won't need to download anything, you just give them a code and they type it into the app. The primary use case is for home users providing ad-hoc support and has similar functionality to remote assistance in previous versions of Windows.
The main caveat is that the user giving support needs to be logged in with a Microsoft account. The person you are helping, however, does not, and they can even be on a domain joined PC unless the feature has been disabled via a policy or network device. Also, this only works if both users are on Windows 10 1607 or later.
As a single person providing ad-hoc support to other users, it is a great tool considering it is free. So, here is a quick guide on how to use this handy Windows 10 feature.
Using Quick Assist in Windows 10
First, as the helper, make sure that you have a Microsoft account linked to your profile. Search for 'accounts' and select Manage your account, then Email & app accounts, and Add a Microsoft account.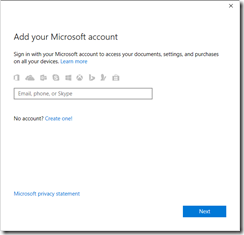 Now, run Quick Assist by searching for 'quick' and choose 'Give assistance'. This will then show you a code. Get the person you are helping to do the same, but they will need to choose 'Get assistance'.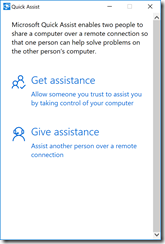 Now they simply enter the code in the box.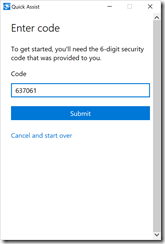 Now click Take control, and they will need to accept the invitation: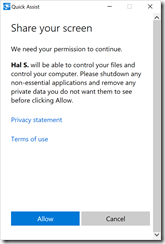 It will connect, and you will have full control of their desktop.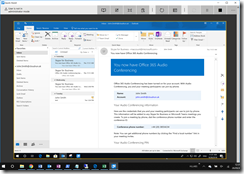 That's it! Let us know how you use Quick Assist in the comments.
Also, check out https://support.microsoft.com/en-gb/help/20534/windows-10-quick-assist-faq for more info.